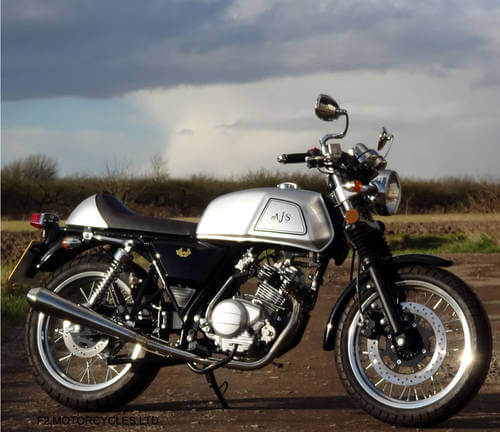 Are you looking for AJS Cadwell 125 finance? Read on to see our review of this motorbike.
Are you looking for AJS Cadwell 125 finance? Read on to see our review of this motorbike.
AJS is one of the most established names in the British motorcycling industry. This bike has the look and feel of something vintage and comfortable; and is guaranteed to take your mind back to those simple times when bikes were built for fun and excitement.
The new AJS Cadwell 125 recaptures the free spirit of the motorbikes that existed during the 50s' and the 60s'. Experience a sense of adventure every time you take a seat on this nimble machine. The AJS Cadwell 125 is a bike that is easy to fall in love with. It brings with it the memories of retro cafes and home.
It even comes in two stylish colours – Jet Black or Silver Fox. Take your pick according to what suits your spirit best. Here are some of the main features of the AJS Cadwell 125 that you can experience firsthand once it's yours.
Drive on A1 driving license or CBT
Combined braking system
Legal for 17-year-old learners
4-stroke engine with an ultra-smooth balance shaft
Easy and light to handle
Comes with excellent fuel economy
Fitted side stand and central stand
Spoked, straight-pull wheels, including alloy rims
Rear disc and front disc brakes
Removable seat cowl
Stainless steel exhaust system
AJS parts and labour warranty for a year
Its seat height is convenient at 740 mm, and its weight is only 113 kg. It has a power of 9.2 bhp at 8500 rpm. This beast is perfect for people looking for an adventure on the road. It has a single cylinder engine with 4-stroke and OHC. It has an air-cooled cooling system and a displacement of 124 cm³.
Verdict
It's affordable, lightweight, and iconic. It has the agility of a mountain bike but with extra power. The AJS Cadwell 125 is truly a modern classic.