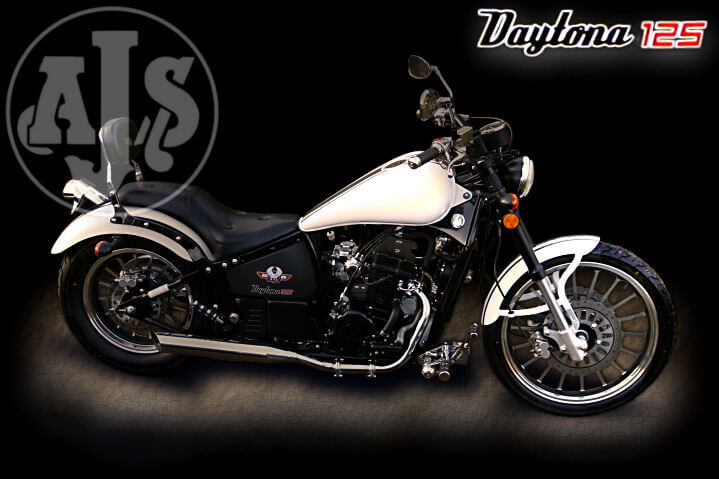 Are you looking for AJS Daytona 125 finance? Read on to see our review of this motorbike.
Are you looking for AJS Daytona 125 finance? Read on to see our review of this motorbike.
The AJS Daytona 125 is a classic remake of the beloved bikes from the 60s'. The Daytona has a sprung rear suspension, wavy front disks, inverted front forks, and a decent amount of chrome to add that touch of class. It's affordable and cost-effective. This bike is perfect for people looking for that old-timey 60s' drag racing feel. Not many other small-capacity bikes emulate this cool riding experience the Daytona 125 has to offer. This motorbike has a fat 16'' rear wheel and a 21'' skinny front wheel to give it that tough, 'don't mess with me' look that's just humming with attitude.
Although these bikes are not really the fastest on the road, they will still have you grinning ear to ear while you're out and about, enjoying your Daytona. It's also available in two brilliant colours – Midnight black, which comes with silver stripes, or Bianco white with silver stripes.
Here are some of the AJS Daytona's key features:
Drive on A1 driving license or CBT
17-year-old learner legal
Liquid-cooled, balance shaft, twin cylinder with a 4-stroke engine
Delphi electronic fuel injection system
Rear suspension that has a hardtail look
USD front suspension
Alloy wheels
Classy forward controls that are chrome plated.
braking system
1-year labour and AJS parts warranty
The AJS Daytona 125 has a maximum power of 8kW at 9500 rpm. It has a liquid-cooled cooling system with a tank capacity of 13.5 litres. It weights around 185 kg and has a comfortable seat height of 640 mm. It also has a maximum speed of 60 mph. The sheer beauty of this motorbike and its features make up for lack of speed. It's a feel-good bike, perfect for road trips and long lasting memories.
Verdict
The AJS Daytona 125 is perfect for people looking for a smooth ride. Although it's a little heavy, this bike still provides maximum stability, allowing you to ride without any worries. It is the perfect motorbike for vintage fans and riders who admire the 60s' drag racer bikes.