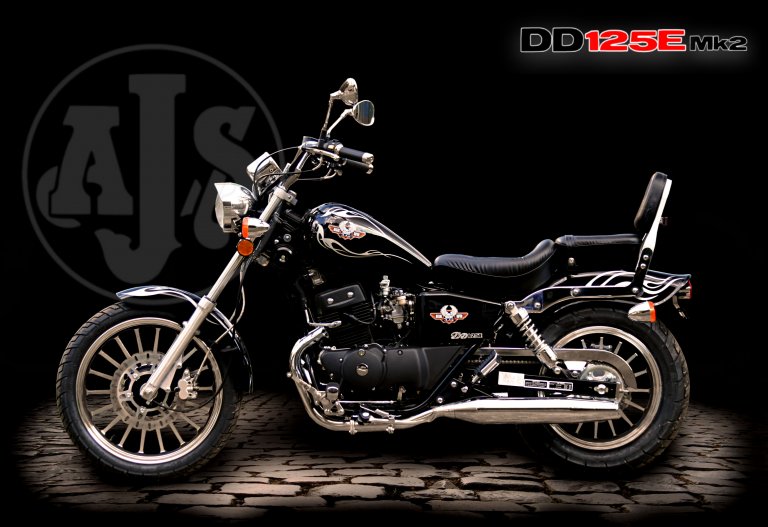 Are you looking for AJS DD125E finance? Read on for our review of this motorbike.
Are you looking for AJS DD125E finance? Read on for our review of this motorbike.
The AJS DD125E is also known as the Regal Raptor in the motorcycling industry and not without good cause. The Regal Raptor was initially introduced into the motorcycling market in 2005 and has since sold over 2000 units, proving to be a great success. Now, after 10 years of steady-going, AJS has given it a major upgrade. The upgrade consists of a new and improved engine that's water-cooled. The new engine produces a lower noise and has a running temperature that's always consistent to improve the bike's overall reliability and aid in its fuel economy.
The upgraded engine also comes with a new overhead camshaft that runs on two ball races and balance shaft technology. It also has a revised rear brake and a stretched chassis to ensure maximum rider comfortability. The best part is, even after all these upgrades, the price remains the same! Its ease of access is truly remarkable. No matter where you're going on this bike, it will surely put a smile on your face every time. You can even choose from two different colour designs – Jet Black with either silver flames or silver stripes.
Here are some of the Regal Raptor's main features:
Drive on A1 Driving License or CBT
17-year-old learner legal
Liquid-cooled, balance shaft, twin cylinder with a 4-stroke engine
Adjustable, twin shock rear suspension
Delphi Electronic Fuel Injection System
Forward Controls that are fully chrome-plated
Chrome engine covers
Combined braking system
Alloy spoked wheels
1-year labour and AJS Parts guarantee
The AJS DD125E has a displacement of 125 cm³ and a maximum power of 8kW at 9500 rpm. It also has a tank capacity of 14 litres and weighs around 170 kg, so it's pretty easy to handle while you're on the road. It has a maximum speed of 56 mph, and although it's not the fastest bike available on the market, it is excellent and cost-effective.
This bike is perfect for people who have always loved the 2005 Regal Raptor, and now you can enjoy the same design with improvements at the exact same price!