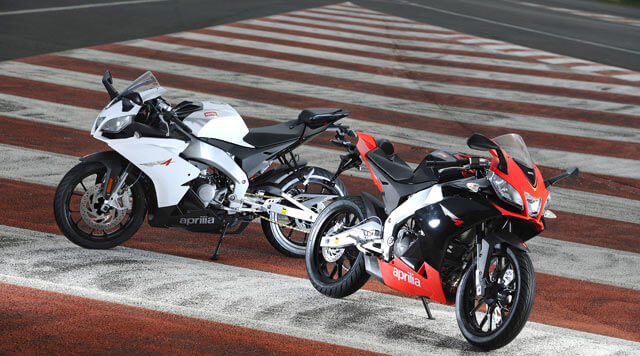 Are you looking for RS4 125 finance? Read on to see our review of this motorbike.
Are you looking for RS4 125 finance? Read on to see our review of this motorbike.
Aprilia RS4 125 is a strong contender in the range of 125 cc motorbikes as they bring in the Italian racing pedigree.
Although the Aprilia RS4 125 is more expensive than other motorbikes in this category, there isn't any other model with the same value or heritage as the Italians.
Powering up the RS4 125 is a four-stroke, electronic injection, 4-valves, single-cylinder, liquid-cooled engine. At 10,750 rpm, the DOHC engine can produce 14.7 hp and torque of 8.9 lb-ft at 8,000 rpm. The delivery of power from the engine to the motorbike is smooth and quick, allowing you to reach the maximum speed of 65 mph. With a 14.5-litre fuel tank and average fuel consumption of 54 mpg, you should be able to take the motorbike for more than 200 miles before finding the nearest petrol station.
As the weight of the RS4 125 is only 134 kg, it is extremely easy to handle on the streets. This motorbike is always a pleasure to ride - regardless of your journey. Thanks to the 41 mm inverted forks in the front suspension, and the Monoshock hydraulic absorber in the rear, the motorbike will scuttle across the bumps on the road with ease.
The seat height on the RS4 125 is 820 mm and offers ample amounts of space. As the riding position on the motorbike is pleasant, you will enjoy going for long-distance rides. The fairings of the motorbike provide sufficient protection against the wind while being aerodynamic at the same time. Thanks to the 300 mm radial, 4-piston calliper disc brakes in the front and 218 mm single piston disc brakes in the rear, you can quickly bring the motorbike to a complete halt.
If there is nothing stopping you with regards to budget, then the Aprilia RS4 125 is a class apart from the rest of the bikes in its category!