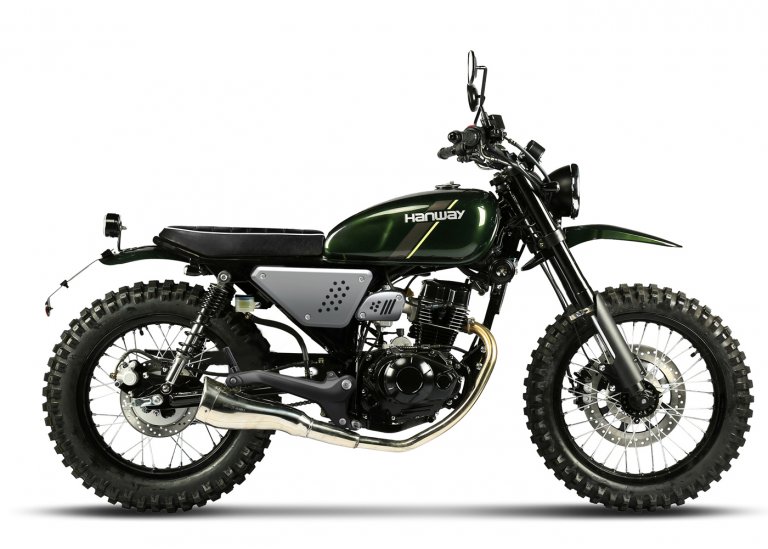 HANWAY SCRAMBLER 125 REVIEW
Are you looking for Hanway Scrambler finance? Read on to see our review of this motorbike.
The Hanway is a great little machine taking the Black Café and swapping out stand road tyres and a sporty style for rugged trial wheels and higher and wider handlebars. It's an ideal bike for first-time riders who want a taste of road riding combined with the ability to throw it around back roads and through the country.
The Scrambler is extremely easy to ride with smooth, consistent acceleration and a comfortable, practical riding position. This bike is quite a new bike but trust us; it is definitely proving its worth with its individual, stylish design, brilliant build quality and surprisingly fierce attitude.
Why we love it:
Stylish
Cheap
Very high-quality finish
Economical
Easy to handle
Some of the Hanway Scrambler 125s' main features include:
Upside down forks
LED headlights
Unique muffler
Trial tyres
Large-capacity steel fuel tank for a great range
Front and rear disc braking system
The Specs:
Engine: Single-cylinder, air-cooled, electronic fuel injection
Displacement: 125 cc
Horse Power: 10.2 bhp
Torque: 7.4 lb-ft
Top Speed: 64 mph
Dry Weight: 102 kg
Available Colours: