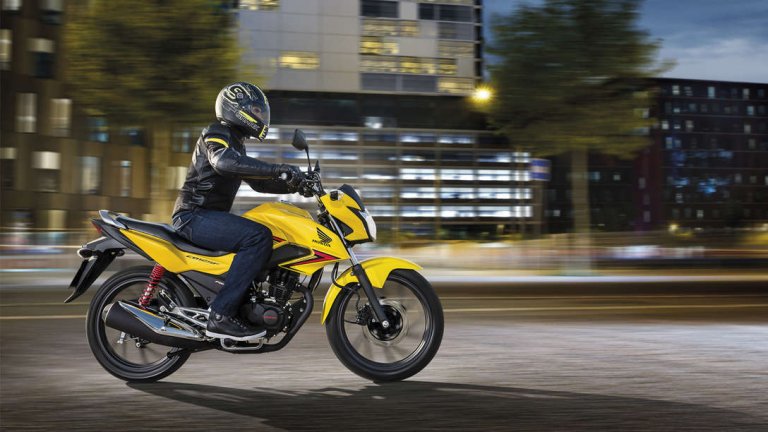 Are you looking for Honda CB125F finance? Read on to check out our review of this motorbike.
Are you looking for Honda CB125F finance? Read on to check out our review of this motorbike.
The new Honda CB125F gives the adrenaline rush that you crave. All you have to do is pull back the throttle to experience the unlimited rush that's always at the tip of your fingertips. The CB125F promises speed, control, and stability - a very hard combination to come by. It fills you with a great sense of freedom that can't easily be found.
Experience the exhilaration every time you get on the road. This bike has a single-cylinder engine, 5 gears, and a displacement of 124.7 cc. It has a comfortable seat height of 775 mm and only weighs 128 kg. So needless to say, you can control this bike easily and it will stay in your hands no matter how fast you go.
It can hold 13 litres of fuel so you can ride long distances comfortably. And it comes in four different shades for you to choose from, to suit your style and spirit. The shades are onyx blue metallic, candy blazing red, pearl twinkle yellow, and pearl sunbeam white. All of which are great colours for a superfast bike.
Here are some of the Honda CB125Fs key features:
It has a maximum power of 10.46 bhp at 7750 rpm and a maximum torque of 10.2 nm at 6250 rpm
It has an air-cooled cooling system
It has a 4-stroke, 2-valve, OHC single-engine with a balancer shaft
Program Fuel Injection Fuel System
Dual rear shocks, including 5-step spring preload adjustment
18-inch diameter six-spoke aluminium wheels
Telescopic forks and a steel frame
Twin rear shocks
The Honda CB125F is sure to make a statement where ever you go, and it is the bike perfect for riders who love city roads, city lights and watching them pass by at high speeds.
This is the ideal bike for people who want to test their limits and break personal records. Unlock the full potential of every city that you go to by easily escaping the traffic on this nimble beast.