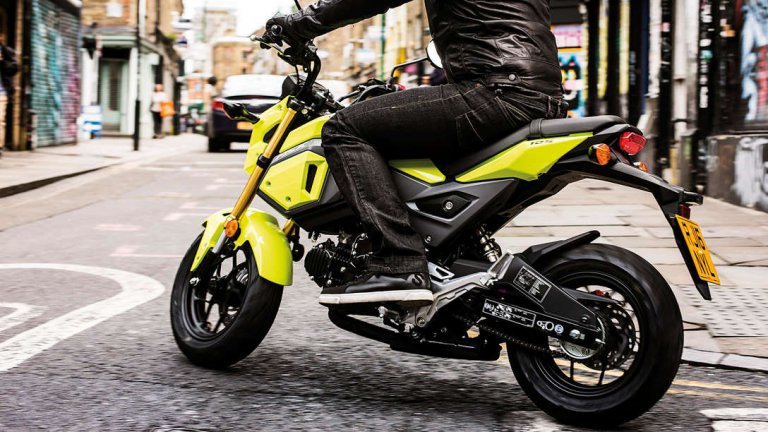 Are you looking for Honda MSX 125 finance? Read on to check out our review of this motorbike.
Are you looking for Honda MSX 125 finance? Read on to check out our review of this motorbike.
The Honda MSX 125 (Mini-Street Extreme 125) has a classy yet edgy look that will impress even the pickiest of people. It still contains some of the beauty and brilliance of the original design but with an added unmatched attitude.
This motorbike is available in four different shades; you can pick whichever matches your spirit the most. The shades are Matt Axis Grey Metallic, Pearl Valentine Red, Pearl Himalayas White and Lemon Ice Yellow. All colours are perfect for a sports bike.
The Honda MSX 125 is nippy, nimble and strong - giving a streetfighter feel as you race through the city streets with confidence. The previous version of this bike was developed mainly for young riders in 2013. Now redeveloped with added improvements and an incredible ease of access -it has an efficient 125 cc fuel-injected engine that delivers consistent power and reliability.
Here are some of the Honda MSX 125s' key factors:
Built to give an aggressive, edgy streetfighter look
Glimmering LED Headlights
The LCD digital dash has twin trip meters, a speedometer, a clock, and a fuel gauge
2-valve, air-cooled cooling system
The engine consists of an off-set cylinder which provides smoother power delivery and an improved throttle feel
Aluminium wheels that are 12-inch cast
5-inch rims
Y-shaped spokes
31 mm fork to reduce unsprung weight
A low seat height of 765 mm for comfortable riding
A Mono-backbone frame made of steel to provide a sturdy base
Verdict
Although the Honda MSX 125 may appear small, it delivers a large impact and is suitable for both beginngers and experienced riders. It only weighs around 101.7 kgs giving the rider complete control over the throttle. It goes up to a speed of 103 kmph - which is pretty good for a small bike like this one.