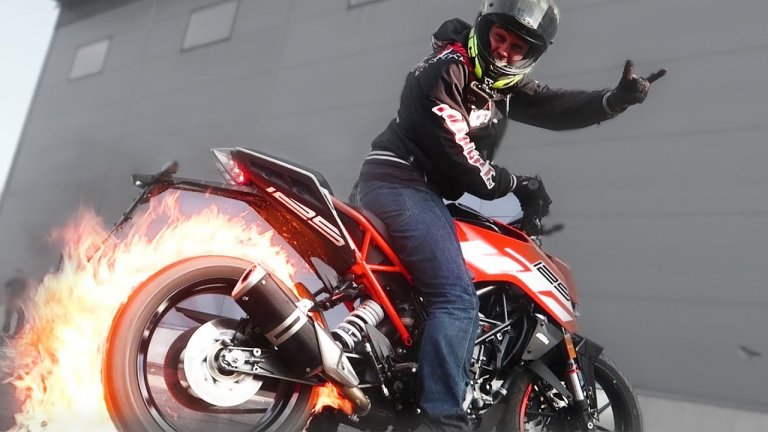 Are you looking for KTM Duke 125 finance? Read on to see our review of this motorbike.
Are you looking for KTM Duke 125 finance? Read on to see our review of this motorbike.
The mind-blowing combination of Super Duke R aesthetics, a ravishing novel TFT (Thin Film Transistor) console display, and the tantalising performance that every young rider desires; make the KTM Duke 125 feel premium.
The enhanced chassis that the Duke 125 sports changes the bikes handling and steering to a whole new level of comfort. The frame on which the bike is built around has a racier configuration, and it comprises a bolt-on mini frame and a buttress swing arm. The riding position is inclined more to the front so that weight is shifted to the frontal side. Do not let the sportier design fool you, the Duke 125 has ample room with adequate comfort and with its linear bars, you are brought closer to the feel of a superbike.
Delving into the engine
The beast is powered by a liquid-cooled single-cylinder engine that easily dishes out a staggering 125 cc. Keeping in sync with the times, the Duke 125 conforms to the Euro 4 norms for emissions. To ensure that you get the maximum power out of your engine, the kerb weight is limited to just about 137 kg, so that you get to experience energetic performance and a smooth ride.

Looks and such

The Duke 125 boasts a silky paint finish and components of the highest quality, so not only does your bike feel premium, but it looks premium as well. There is no lack of options in the 125 cc bikes segment, especially with respect to the pricing, but you cannot expect the same meticulous design and commitment to quality as the Duke 125. Furthermore, when you buy the Duke 125, you get more value for your money. You get a plush LED headlight, a voluminous fuel tank and that coveted WP (White Power) suspension. It also features a 300 mm four-piston disc brake at the front wheel and a 230 mm single-piston disc brake at the rear wheel.