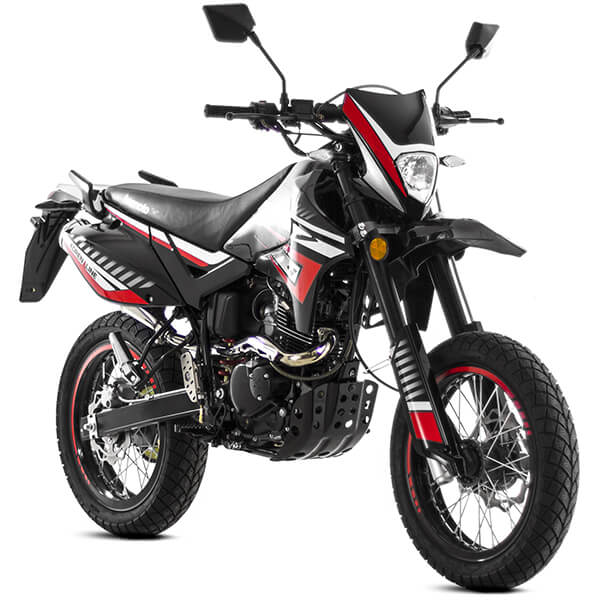 LEXMOTO ADRENALINE 125 REVIEW
Are you looking for Lexmoto Adrenaline 125 finance? Read on to check out our review.
Are you looking for Lexmoto Adrenaline 125 finance? Read on to check out our review.
Taking over the original model's legacy, the Lexmoto Adrenaline 125 is the latest Euro 4 version that aims to be the Chinese manufacturer's bestselling model on the UK market.
The Lexmoto Adrenaline 125 has a single-cylinder, 4-stroke, electric fuel injection, and an air-cooled Suzuki engine with a max power rating of 9.7 hp at 8,500 rpm. The motorbike also comes with a five-speed gearbox that can take it all the way to 68 mph without too much strain on the engine. The average fuel consumption of the motorbike is spot on, allowing you to cover a substantial distance on a full tank.
The Lexmoto Adrenaline 125 comes with upside-down forks in the front suspension and a single shock absorber at the rear. Coupled with the motorbike's weight of 124 kg and Lexmoto's fine-tuning, you will have an absolute blast both on and off-road. If you don't like the factory settings on the suspension, you can adjust it according to your requirements and specifications. Whether you are taking the motorbike around corners or riding through traffic, you won't have any problems keeping it under your control.
The motorbike has hydraulic disc brakes in the front and rear with sufficient stopping power in all types of terrain. Lexmoto has also adjusted the combined braking system, and as a result, you have more control over this Lexmoto Adrenaline 125.
To prevent the motorbike from falling prey to rust, Lexmoto used stainless steel for the downpipe. On top of that, the rims are double-walled to improve the durability of the motorbike. The Lexmoto Adrenaline 125 truly lives up to its name as the ride is exhilarating at all times.
Go for the Lexmoto Adrenaline 125 if you are looking for a durable motorbike that is reliable and efficient!