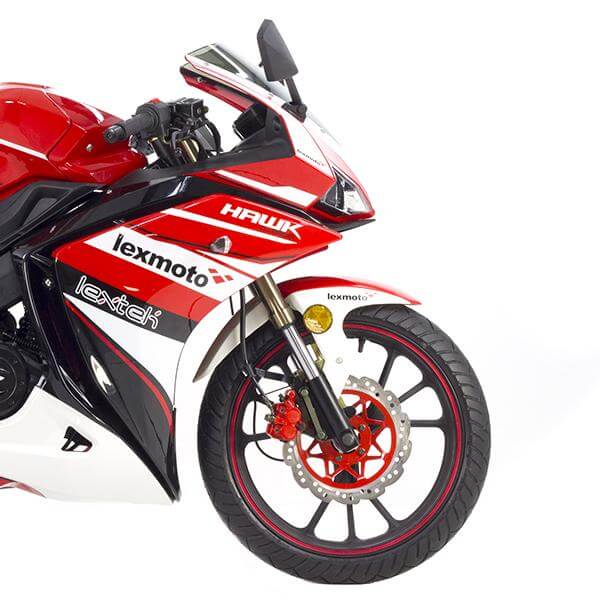 Are you looking for Lexmoto Hawk finance? Read on to see our review.
The Lexmoto Hawk 125 is the Chinese motorbike manufacturer's budget sports bike with all the necessary features!
Inside the Lexmoto Hawk 125, you will find a single-cylinder, 4-stroke, air-cooled engine, producing nine hp of power at 9000 rpm. The sports bike comes with a five-speed manual gearbox, which can take it all the way to 62 mph. The power delivery is good as the motorbike can easily reach 50 – 55 mph. As the fuel efficiency on the Lexmoto Hawk 125 is phenomenal, you can take the sports bike for long-distance rides without wondering if you have enough petrol in the tank.
You get telescopic forks in the front end of the suspension while the rear has a single shock absorber. As a result, you can take the sports bike to work every day and not be bothered by the bumps on the road. The Hawk 125 also weighs 130 kg, making it extremely easy to handle the sports bike while wading through the traffic. In other words, the Hawk 125 is great if you want to learn how to ride motorbikes. Even enthusiasts will enjoy riding this motorbike around the city.
The front and rear brakes are hydraulic discs with enough stopping power to quickly bring the sports bike to a halt from its top speed. Another brilliant aspect of the Lexmoto Hawk 125 is its modern and sporty design. As the motorbike looks majestic and beautiful from all angles, onlookers will find it hard to take their eyes off this beast. The sports bike comes in three colours – Race Design, Black, and Red.
If you want a sports bike that looks and plays the part while not burning a hole through your wallet, you will love the Lexmoto Hawk 125!