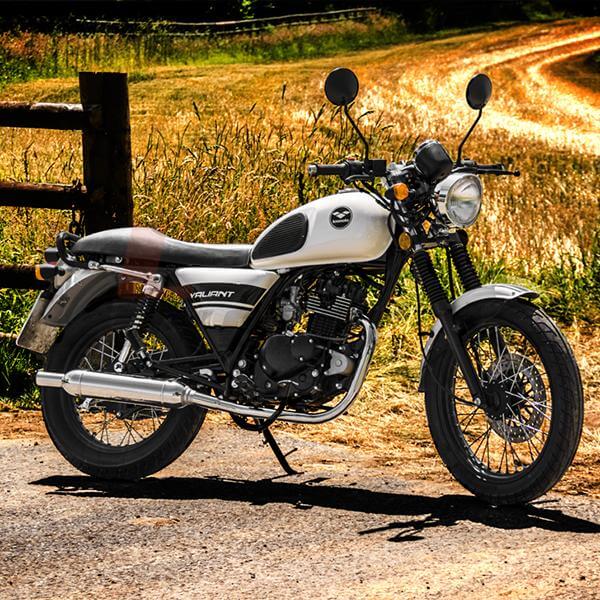 Are you looking for Lexmoto Valiant finance? Read on to see our review of this motorbike.
Are you looking for Lexmoto Valiant finance? Read on to see our review of this motorbike.
Lexmoto Valiant, from the Chinese manufacturer, gives you the feeling of nostalgia as you recollect the reasons that made you fall in love with riding motorbikes!
The Lexmoto Valiant has a single-cylinder, 4-stroke, air-cooled Suzuki G5 engine, which produces 9.7 hp of power at 8,500 rpm with a torque of 6.64 lb-ft at 7,750 rpm. Despite having a five-speed manual gearbox, the motorbike can still reach a top speed of 65 mph.
As the engines delivery is on point, riding this motorbike around the city is simple and fun. As the motorbike weighs only 115 kg, it is agile and quick around corners and easy to weave through traffic. With a tank size of 12-litres and incredible fuel efficiency, you won't have to make frequent visits to the petrol station.
This Chinese manufacturers motorbike comes with a non-adjustable telescopic fork in the front and an adjustable preload twin shock absorber at the back. Even though you can't change the motorbike's factory settings, the suspension is adequate to absorb most of the bumps on the road.
The front brakes on the Lexmoto Valiant are 2-piston calliper discs, while the rear ones are drum. The motorbike has ample stopping power allowing comfort when bringing it to a complete halt. With a seat height of 730 mm, you won't have any trouble getting on the Lexmoto Valiant.
Whether you are an experienced or new rider, you will love riding this motorbike through the countryside. While feeling the wind on your face, you can enjoy the scenery of your surroundings.
The Lexmoto Valiant is the perfect motorcycle for those who want a great biking experience without spending large sums of money!