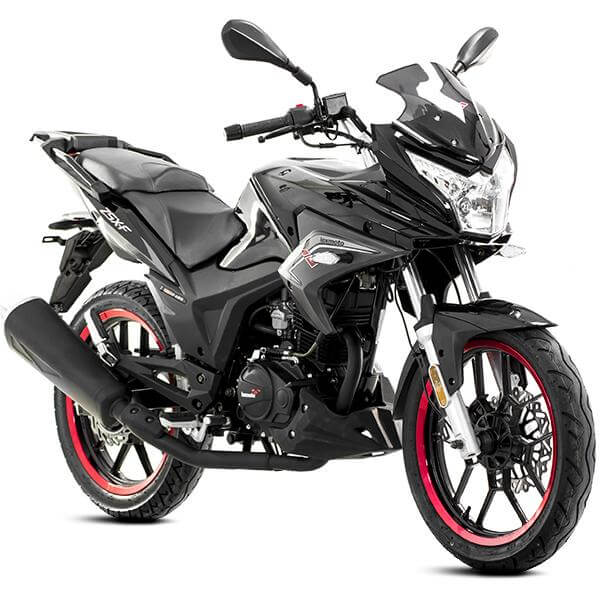 Are you looking for Lexmoto ZSX-F finance? Read on to see our review of this motorbike.
The Lexmoto ZSX-F is the Chinese motorbike manufacturer's best model for daily commutes, and it comes with a set of incredible features.
Powering the Lexmoto ZSX-F is the all-new single-cylinder, 4-stroke, air-cooled, ZY125 engine that can produce a maximum power of 10 hp at 8,500 rpm. The motorbike has a five-speed manual gearbox with zero problems taking it to a top speed of 56 mph. The super-efficient engine coupled with the 18-litre fuel tank is great for travelling to your college or workplace every day. The performance of the engine and the gearbox is on point, as the power delivery is reliable and smooth at all times.
Thanks to the telescopic forks in the front suspension and single shock absorber in the rear, the bumps on the road are completely unnoticable. On top of that, the handling of the Lexmoto ZSX-F is incredible and nimble, as it only weighs 138 kg.
The handling and control of the Lexmoto ZSX-F are better than the previous edition as the motorbike has hydraulic discs for the front and rear brakes. As a result, you won't have any troubles quickly bringing the motorbike to a halt in traffic.
You can ride the Lexmoto ZSX-F in different weather conditions as the headlight accents and LED indicators are always visible. On top of that, thanks to its half-fairing, the motorbike will also protect you from a myriad of weather conditions.
The Lexmoto ZSX-F provides brilliant value for money due to its practicality. Along with the storage space under the seat, you also get a luggage rack. The digital display of the motorbike shows information about the trip, speed, gear, and fuel. The exhaust on the motorbike isn't prone to corrosion as the Chinese manufacturer's use 409-grade stainless steel.
In other words, if you are a daily commuter who wants the perfect motorbike for all your travel requirements, the Lexmoto ZSX-F is your saviour!