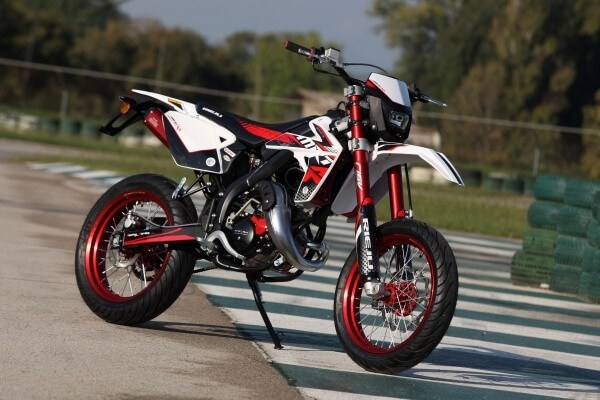 RIEJU MRT 125 LC TROPHY REVIEW
Are you looking Rieju MRT 125 LC Trophy finance? Read on to check out our review.
Are you looking for Rieju MRT 125 LC Trophy finance? Read on to check out our review.
The new Rieju MRT 125 LC Trophy uses a liquid-cooled cooling system and a 15 CV Yamaha 4, Valve 4 Stroke engine. It also has a light-weight aluminium silencer for the best weight to power ratio possible. Every ride on this bike is a memorable one. Not many bikes give you the freedom and class you crave, but this one does all that at an affordable price! The Rieju MRT 125 LC Trophy comes with some exclusive features like a 41 mm red, anodized R+V suspension, red anodized silencer, fat bars, LED indicators, and Galfer Wave Disc brakes.
It has red anodized rims that come with an SM spoked wheel set. And The rear monoshock suspension is by Olle.
This bike runs on color codes and comes with other colour coded components like engine covers and domino grips for the ultimate feel while you're on the road. The styling of this bike is nothing short of amazing. You can easily stand out while setting trends left and right. Not only does it look and feel amazing, it is also powered by the latest generation authentic Minarelli engine. This bike has two different shades available – black and white. The classic colors are just perfect for this bike; and you get to pick the colour you feel more comfortable with.
Here are some of the Rieju MRT 125 LC Trophy's key features:
Engine Type – Yamaha 4T, 125cc 4 Valves
6-speed manual gear change for optimal performance
Liquid-cooled cooling system
Electric start-up
Weight of 121 kg for a faster, more nimble ride
The Rieju MRT 125 LC Trophy is perfect for people who refuse to conform to the norms of society. Its fuel type is petrol. Unleash your inner adventurer with this brand new beast.