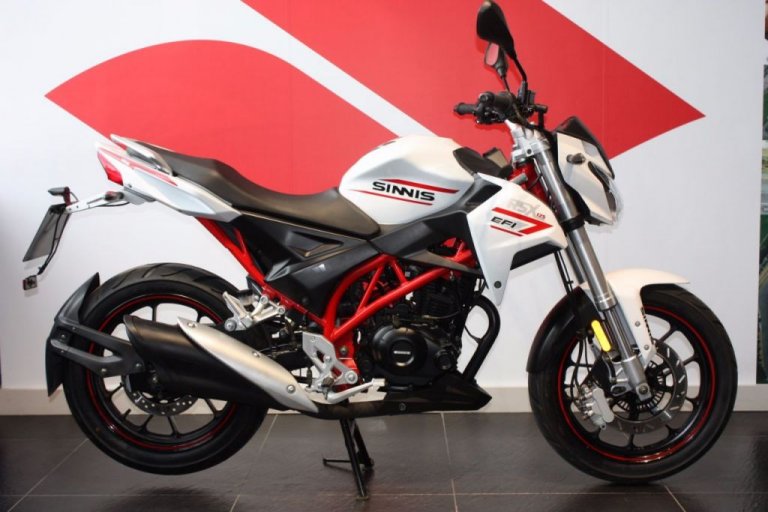 Are you looking for a Sinnis RSX 125 motorbike on finance? Read on to see our review of this motorbike.
The Sinnis RSX 125 is available in four fashionable colour schemes: Midnight Green, Midnight Purple, Pearl Red and Pearl white.
The RSX 125 is one of the new Euro 4 entrants into the competitive motorbikes market. It boasts a whole array of features such as combined braking technology, a futuristic digital panel supporting connections via USB, the favoured upsidedown (USD) forks for better handling, a tank pad and enormous disk brakes.
No doubt the RSX 125 is a strikingly impressive, mammoth-bike feel beast of the street. It is specifically designed for everyday use, and the amazing 290 mm front disc brake inspires the confidence to push this beast to its limits. Contrasting to the big bike image - this motorbike is very nimble when it comes to cornering, thanks to the 130/'70/17 rear tyre with enhanced grip. The digital panel and LED headlights complement the stylish aesthetics of this beast of the street.
Peeking into the engine
The engine powering this beauty of a bike is no less by any measure and has a rated displacement of 125 cc. It is an air-cooled SOHC (Single Over Head Camshaft) variant and can dish out a stupendous power of 11 horsepower. For a smooth riding experience on such a large bike, a five-speed manual transmission takes the onus to get all the power generated by the engine to the wheel. This bike can hold a maximum of 13.5 litres of fuel at once.

Other specifications

The dry weight of this colossal motorbike is about 140 kg, as expected. The seat elevation is thoughtfully kept at 780 mm for a blissful riding experience. The console is of the purely digital kind and does not have a single analogue element to add to the uniform aesthetic theme of this beast. Frontal brakes are a 280 mm hydraulic disc variant, and linked to the front are the rear brakes at 230 mm hydraulic disc variant.