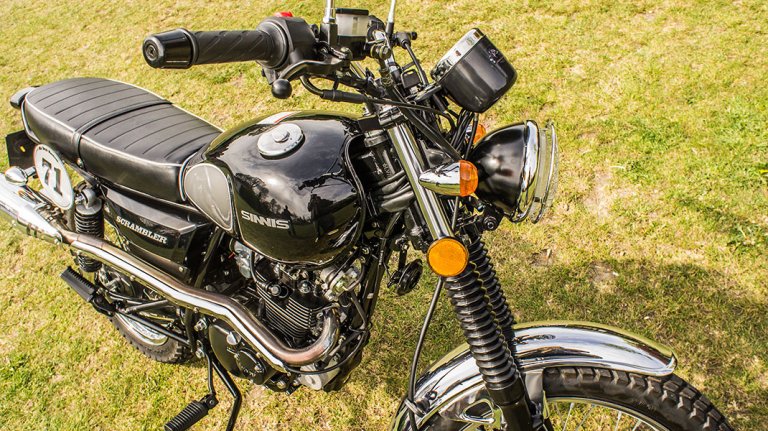 SINNIS SCRAMBLER 125 REVIEW
Are you looking for Sinnis Scrambler finance? Read on to see our review of this motorbike.
Are you looking for Sinnis Scrambler finance? Read on to see our review of this motorbike below.
At long last, motorbike enthusiasts can witness the unveiling of the much anticipated Sinnis Scrambler 125. Banking on its massive success in 2016, Scrambler 125 this time comes to the market brandishing its Euro 4 conformity. It is not lacking in any department and sports a wide array of features, such as bigger wheels with a strategic tread design for superior grip and handling, a titanium jacketed exhaust outlet, plus many more.
The newer iteration does retain some semblance to its previous model, primarily in the form of an elevated exhaust setup and attractive dual shock element. The robust engine from Suzuki promises durable and exceptional performance for all your mobility needs.
This retro-styled motorbike has plenty going for it - including frugal pricing and an unmatched riding experience. Any way you look at it, the Scrambler 125 is the value for money motorbike.
Peeking into the engine
One of the outstanding features of this bike's engine is the integration of electronic fuel injection for consistent power output. The motorbikes engine has a rated displacement of 125 cc and is cooled using air. It is no slouch and delivers power at 8.5 kilowatts at 8,500 rpm. Aiding the powerful engine is the manual five-speed transmission, which ensures that the motorbike can supply a decent fuel economy. The fuel retention capacity of this bike is 10 litres.

Other specifications

True to its retro bike image, this bike is quite heavy. In fact, its dry weight is about 115 kg. The elevation of the seat is kept at a modest 830 mm to ensure that the rider has a comfortable riding experience. Unlike newer bikes, which usually sport either fully digital or part analogue and part digital consoles. This retro-styled beast has a matching analogue console-setup. As for the suspension, the front has telescopic forks, and the rear has dual shock springs. Thus the rider is assured that the ride experience will be as smooth as cutting through butter.