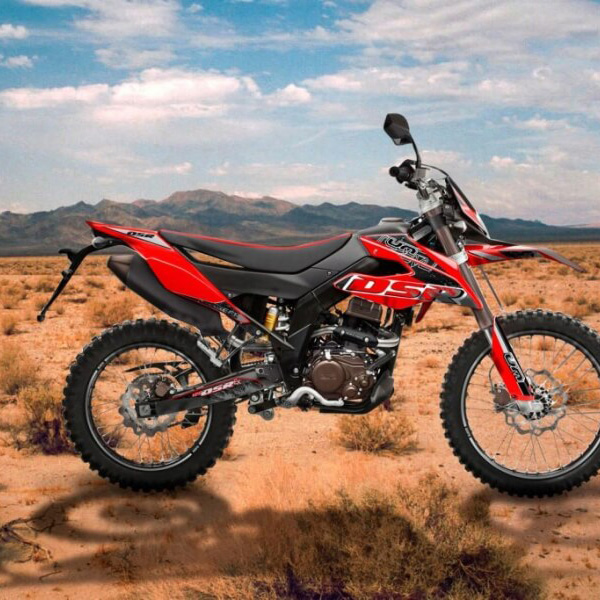 Are you looking for UM DSR EX 125 finance? Read on to see our review of this motorbike.
Are you looking for UM DSR EX 125 finance? Read on to see our review of this motorbike.
The UM DSR EX 125 is a great dirt bike that will give you a thrilling and comfortable off-road experience.
The UM DSR EX 125 has a single-cylinder, 4-stroke, water-cooled engine producing 14.75 hp of power at 10,750 rpm and 8 lb-ft of torque at 8,250 rpm. Thanks to the manufacturers' engine tuning, you can take the dirt bike up to a top speed of 61 mph off-road. You can cover large distances on the UM DSR EX 125 as the dirt bike comes with an 8-litre fuel tank. As you can imagine, you can have fun off-roading for hours before you need to fill up the DSR EX 125.
To ensure your experience off-road is always comfortable, the manufacturers installed upside-down forks in the front suspension and a single shock absorber in the rear. The result of this combination is spectacular, as the dirt bike can easily absorb the impact of your jumps. As you will be using this dirt bike in various terrains - the manufacturers made the frame rigid and slender.
Thanks to the clutch and the hydraulic disc brakes in the front and rear, you have optimal control over the dirt bike when you go off-road. On top of that, the hydraulic disc brakes have enough stopping power to quickly bring the dirt bike to a halt, if necessary. This feature is extremely useful if you come across an unexpected obstacle while off-roading.
As the dirt bike weighs only 120 kg, handling it is a piece of cake. It has a powerful engine that allows you to make swift turns on the DSR EX 125.
If you are looking for a dirt bike that checks all the right boxes, such as comfort, control, performance, and durability, you should go for the UM DSR EX 125!