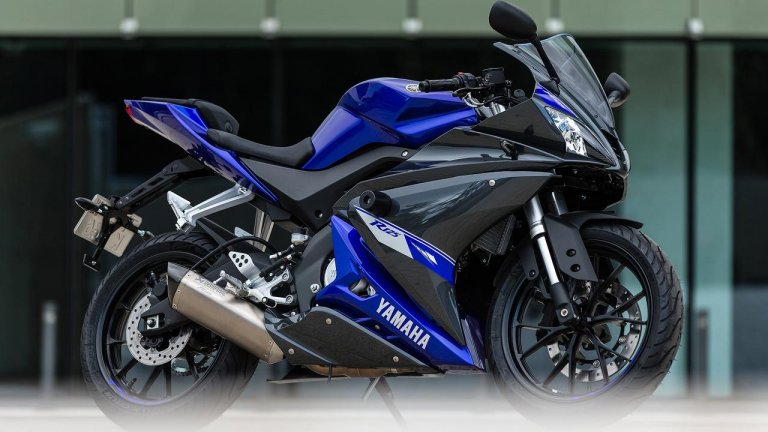 Are you looking for YZF-R125 finance? Read on to see our review of this motorbike.
Are you looking for YZF-R125 finance? Read on to see our review of this motorbike.
Since the introduction of the Yamaha YZF-R125 in 2008, the Japanese manufacturer's sports bike for learners has been a smash hit.
Powering the YZF-R125 is a 4-stroke, single-cylinder, liquid-cooled engine that can produce 15 hp of power at 9,000 rpm and torque of 9.15 lb-ft at 8,000 rpm. To further improve the efficiency of the engine, 70 components such as the fuel injection system, the clutch, and the piston rings are new. Combined with a 13.8-litre tank, you will only need to fill up on petrol after covering a distance of 180 miles. The YZF-R125 has a quick and accurate six-speed gearbox.
As the wet weight of the YZF-R125 is only 140 kg, coupled with the smooth delivery of power from the engine, it is relatively easy and simple to take the motorbike around corners. Even though Yamaha is known for producing bikes for racing, the YZF-R125 is a joy to ride in the city and the countryside as it is exceptionally comfortable. Despite the non-adjustable settings of the rear suspension, you won't feel the majority of the bumps on the road. On top of that, the motorbike comes with Michelin Pilot Street tyres, which provide ample grip and keep it agile at the same time.
The seat height of the YZF-R125 is 818 mm and has sufficient space, allowing you to take your preferred riding position. Thanks to the Brembo sliding calliper two-piston brakes in the front and single-piston at the rear, you will find the stopping power is adequate at all speeds. For this price range, you will get an LCD screen that displays the revs, speed, water temperature, average mpg, odometer, fuel gauge, and the miles remaining till your next service.
Whether you are looking for a motorbike that gives you the sports experience or you want practicality, the Yamaha YZF-R125 will never disappoint you!